AML Red Flags
Overview
The AML Red Flags course is ideal for financial services firms and addresses the Anti-Money Laundering (AML) risks that are specific to your business.
To ensure you get the most from this course, it is tailored to your financial services sector. Industries include:
Corporate Banking
Private Banking
Syndicated Loans
Trade Finance
Wealth Management
Brokerage
Real Estate
Pharmaceutical Firms
Our AML for Lawyers course in Dubai is CLPD accredited by the Dubai Legal Affairs Department.
Who is this for?
This course is suitable for front office staff within financial services firms. This includes Asset Managers, Wealth Managers, Bankers, Brokers, Lawyers, Accountants, and Estate Agents.
A tailored version of this course is also available for Compliance staff in the pharmaceutical industry.
Each course will focus on one of the Red Flag areas.
Learning Outcomes
After attending the course, participants will be able to:
Explain and apply relevant legislation, regulations, regulatory guidance and other best practice regarding the management of money laundering and terrorist financing risks
Identify and assess AML and CTF risks, at a business and at an individual customer or other third-party level
Describe a range of related red flags, including how they may show up and how they may be mitigated
Explain the legal requirements regarding reporting of suspicions, and how to apply effective reporting and investigation of such suspicions
Course Details
Introduction to international crime and its impact on firms
Overview of recent and upcoming regulatory and other trends
The legal, regulatory and best practice foundations of AML and CTF
Identifying, Assessing the business as a whole for AML and CTF risk; and risk mitigation
The risk-based approach to onboarding clients, customers, third parties and partners: Risks and Red flags
Ongoing monitoring and screening including time-based and trigger-based reviews
Identifying, assessing and reporting suspicions; including understanding of suspicion, and the legal requirements of reporting and tipping off
Delivery
Have the flexibility to deliver your In-House training in-person by one of our trainers at your premises, or virtually via Zoom, Teams or Webex.
Find out more about your Virtual or In-Person training experience below.
Virtual Delivery
Our virtual training courses are designed to be every bit as engaging as our in-person courses. To achieve this, our trainers use market-leading technology and a range of training techniques to ensure high levels of interaction with participants. Courses include the use of:
Virtual 'break-out' rooms: participants are divided into virtual rooms to facilitate small group discussion.
Polling: multiple-choice questions, answered anonymously, allow the trainer to assess knowledge and understanding across the group.
Case studies: true to life case studies and scenarios are used to highlight the practical application of theoretical knowledge.
Messaging: participants can submit questions and comments, either to the whole group or privately to the trainer.
Additional Benefits:
Recording: public course participants have the option to access a recording of the course for one month after the course. In-House clients also have the option to record their training for an additional fee.

On-going Q&A: public course participants can access an ongoing Q&A facility allowing them to ask questions relating to the course.
In-Person Delivery
Our in-person training is delivered face to face at your offices, and includes:
'In-the-moment' questions & discussions: questions through conversations allow the trainer to assess knowledge and understanding across the group.
Case studies: true to life case studies and scenarios are used to explore practical application of theoretical knowledge.
Q&A: participants can ask questions during training, either to the whole group or privately to the trainer.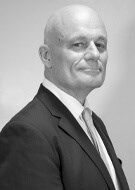 Bruce Viney
Director of Financial Crime Compliance Training