The SM&CR Case Study Series: Issue 7 - Training for Certification Staff
-----------------------------------------------------------
About our SM&CR case study series
This is the seventh instalment in our SM&CR case study series, designed to help you prepare for the implementation of the FCA's Senior Managers & Certification Regime (SM&CR). This series follows fictitious firm Smith & Cromer Limited's project to implement the Regime with the process and tips being released to you throughout the year.
Have you:
Read the first six instalments?
Watched our one-minute explainer video – SM&CR in a Nutshell?
If you are up to date, read on...


About our case study firm
Smith & Cromer Limited is a fictional solo-regulated firm active in the wholesale markets with 25 staff in total, including 20 approved persons. There are five executive directors and two non-executives. All but one of the executive directors also perform the customer function under the Approved Persons Regime. The compliance function and the MLRO function are both performed by Sam Carr, who is not a director of the firm.
Sam is steering the SM&CR implementation project and it is progressing smoothly. The senior managers and certification staff have been identified, and the required updates to documentation for the SM&CR to be implemented have been put in place. The fitness and propriety of both the senior managers and the certification staff have been assessed. Training plans have been devised for the senior managers and now it is time to finalise the design and delivery of training for the certification staff.


-----------------------------------------------------------
The Certification Staff
Remember that the staff requiring certification by Smith & Cromer consists of the 20 persons that are currently approved to perform the customer function. This includes four executive directors that are currently approved as CF30s and need to be certified as fit and proper for their customer facing role in addition to being approved by the FCA as senior managers.


The Training Sessions
Given the training and evidence already in place as a result of CF30 status, Sam has concluded that 'lunch and learn' sessions will be sufficient to supplement this and satisfy the fitness and propriety requirements under the SM&CR. There will be two 'regulatory and compliance workshops' – one on the current regulatory regime (including the developments introduced by the SM&CR) and another focusing on recent developments and enforcement incidents that specifically relate to Smith & Cromer's lines of business.
Read this instalment of our SM&CR case study series to see how Sam handles this stage, and how the FCA's stocktake report on the SM&CR implementation in the banking sector has affected her plan...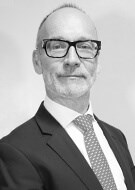 Martin Mitchell
Director of Training Services