Concerning Conduct: Quarterly Cases - Q3 2023
A summary of recent cases concerning culture and conduct.
Farage drama leads to resignations at NatWest.
In late June former UKIP and Brexit party leader Nigel Farage was told by NatWest's private bank subsidiary Coutts that his accounts will be closed, although he could shift to NatWest. He argued the move was due to his political views, but he was told that the closure was a "commercial decision" as he no longer met the financial criteria to remain with the prestigious private bank. A BBC correspondent subsequently reported that a senior source at NatWest confirmed that Mr Farage had fallen below the required thresholds at Coutts and that was the reason for the account closures.
Mr Farage then submitted a "subject access request" which revealed that Coutts' decision was significantly based on reputational risk arising from Mr Farage's "xenophobic, chauvinistic and racist views". The CEO of NatWest Dame Alison Rose initially apologised and then resigned her position. Subsequently Peter Flavel, CEO of Coutts, also resigned.
Financial institutions' climate risk models underestimating risks.
A study by the Institute and Faculty of Actuaries and the University of Exeter found that financial institutions often did not understand the models they were using to predict the costs of climate change and were underestimating the risks of temperature rises. 
Mazars and BDO audit quality issues. 
Two firms looking to compete and break the stranglehold of the big four in UK audits were criticised in the Financial Reporting Council's annual review of audit quality. Only fifty-six per cent of Mazars audits were found to be of good quality or require only limited improvements. Two of BDO's audits were judged to require significant improvement.
Fintech Revolut sees fraudulent losses of around $20m.
Revolut in the US saw criminal groups take advantage of a systems flaw that erroneously allowed clients to collect a refund on declined transactions. The flaw appears to date back to late 2021, and was only picked up in 2022. It appears that it enabled criminals to extract some $20m from the firm.
UK Treasury planning to scrap EU restrictions on short selling gilts.
The UK Treasury announced plans to ditch rules inherited from the EU that prevent naked sales of gilts and the purchase of credit default swaps on government borrowing. The view is that such activities contribute to "price discovery" and the bans could have a "detrimental impact on liquidity". 
Microsoft and Activision deal looking more probable.
After initial rejections from antitrust regulators in the US and the UK, Microsoft's $75bn proposed acquisition of Activision Blizzard is looking more probable. Firstly, a US federal judge rejected the Federal Trade Commission's request to block the deal. Now, Microsoft and Activision have received preliminary approval of the deal from the UK's Competition and Markets Authority, subject to gathering third party feedback. Additionally, Microsoft's arch-rival Sony, a major opponent to the deal, agreed a licence deal for ten years with Microsoft for Call of Duty, Activision Blizzard's most popular title, that will apply if the deal goes ahead.
BlackRock joins experiment on ways to involve ordinary investors in shareholder proposals.
BlackRock has joined other major index fund providers State Street and Vanguard in allowing retail investors to vote on shares held in its largest ETF fund. BlackRock will give the ordinary retail investors in its $342bn iShares Core S&P500 ETF the ability to participate in its proxy voting choice programme in 2024. The programme will enable clients to choose one of seven different voting policies.
EU to formally investigate Microsoft's bundling of Teams.
The EU will formally investigate whether Microsoft abused its dominant position by including its Teams video conferencing application within its Office suite.
Nasdaq shelves plans to launch a cryptocurrency custody service.
US exchange operator Nasdaq decided against continuing its plans to launch a cryptocurrency custody service due to "regulatory uncertainty". 
Zoom requires staff at the office.
In a blow to the general trend towards homeworking, video conferencing group Zoom is introducing a "structured hybrid approach" that will require staff who live within fifty miles of one of its locations to work in the office at least two days per week.
Ramifications of the UBS takeover of Credit Suisse
UBS announced that it no longer needs the Swiss government's SwFr9bn protective backstop against losses from its rescue of rival Credit Suisse. The backstop was part of the orchestrated deal and would have covered losses to UBS that exceeded SwFr5bn. UBS now believes losses will be comfortably contained with SwFr5bn.
Subsequently, UBS's second quarter report for 2023 revealed a massive $29bn accounting gain from so-called negative goodwill. The negative goodwill can be considered as the extent to which UBS got a bargain deal. It represents the discount on the price paid to acquire the net assets when UBS took over Credit Suisse.
Meanwhile, the fifty-eight-year-old head of Swiss regulator FINMA resigned explaining that the "permanent stress levels" resulting from his efforts to orchestrate the rescue of Credit Suisse as a key factor.
"Zero-day" equity index options start in Europe.
Eurex, the derivatives exchange run by Deutsche Borse, introduced so-called "zero-day" options on the Euro Stoxx 50 equity index. "Zero-day" options are contracts that expire on the same day they are purchased and have grown in popularity in the US, where the Cboe actively trades S&P500 zero-day options. 
UN tells banks that financing Aramco risks human rights breach.
Banks including Citi, Goldman Sachs and BNP Paribas have been told by the United Nations that they may be violating global human rights rules by financing Saudi Arabian oil and gas giant Aramco. The concern is that Aramco's continued crude oil production and exploration for oil and gas may be in breach of the Paris agreement to limit global temperature rises and that people have a right to a clean, healthy, and sustainable environment. The banks were told they should be taking "proactive steps to identify, prevent, mitigate and address adverse impacts" to avoid violating international human rights laws and standards.
UK tribunal awards £1.3m over inappropriate sexual comments.
A female former Swiss Re underwriter was awarded £1.3m by a UK employment tribunal in one of the City's largest sexual discrimination payouts. It appears that a senior manager at Swiss Re made false and lewd comments towards the female subordinate and speculated on her sex life. The senior manager subsequently left Swiss Re. 
Goldman facing mental health lawsuit in London.
A £1m lawsuit is being brought against Goldman Sachs in London by a former head of recruiting who claims his role triggered mental health issues. Ian Dodd claims his role required "working excessive hours" in a "dysfunctional" workplace with meetings characterised by "high emotions".
CEO resignations over failures to disclose colleague relationships.
Two chief executives resigned due to failures to disclose relationships with work colleagues. The first was the chief executive of UK oil and gas giant BP, Bernard Looney. A few days later the chief executive of derivatives trading organisation Cboe Global Markets, Edward Tilly, resigned for the same reason.
Smurfit Kappa switches primary listing from London to New York.
Dublin-based paper and packaging group Smurfit Kappa that is currently a FTSE 100 constituent is merging with US rival WestRock. The merged entity will be called Smurfit WestRock and will move its primary listing to New York. It will retain a secondary, standard listing on the London Stock Exchange. The combined entity will "gravitate towards a market that has much more liquidity and higher ratings" according to its chief executive.
FCA finds no evidence of de-banking due to political views.
A FCA probe launched in August after the wave of publicity surrounding Nigel Farage's account closures by Coutts was published. It could find no evidence that politicians were being denied bank accounts solely because of their views. The report stressed that the data was gathered "at speed" and the FCA will issue a follow-up report at some stage.
Indonesia to sue for share of Airbus bribe settlement.
The €991m bribe settlement reached with Airbus by the UK, US, and France in 2020 included inappropriate kickbacks to executives at Indonesia's state-owned airline, Garuda. Now Indonesia is talking about suing the UK to force a renegotiation that would give Jakarta a share of the fine.
FCA to run advertisement before Dumb Money cinema screenings.
Dumb Money is a film that chronicles the GameStop saga that saw private investors boost the price of the retail chain's stock only to see it collapse later. The FCA is running an advertisement prior to the film's screening in UK cinemas that should make viewers wary of how hype can influence investment decisions. It ends with the warning: "Don't Get Played – Invest Smart".
Chase UK to ban purchase of cryptocurrencies.
Chase UK is set to ban the purchase of cryptocurrencies from its accounts on 16 October. The ban is an attempt to stop its network being used for scams and fraud. Chase UK will join others including TSB and Starling in banning the purchase of crypto from their bank accounts.

Delivered straight to your inbox
Receive updates, exclusive offers, event invitations and free resources straight to your inbox by signing up for our monthly newsletter.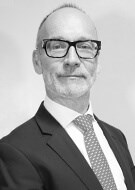 Martin Mitchell
Director of Training Services