Concerning Conduct: Quarterly Cases - Q3 2021
A summary of recent cases concerning culture and conduct.
Robinhood fined record amount and customer suicide cited.
Robinhood, the broker of choice for the retail investors trading so-called meme stocks like AMC Entertainment and GameStop, was fined a record amount by US regulator Finra for causing "widespread and significant" harm to its customers. The fine was $57m and Robinhood will also pay $13m in restitution to clients. Amongst its failures was providing false or misleading information to its customers about their account balances. One individual committed suicide believing he had incurred $730,165 in losses on a margin trade when his account actually had a positive balance of $16,000.
Watchdog concludes Greensill pressure to access Covid loan scheme was "unusual".
The UK's National Audit Office's report into the recently collapsed supply chain finance company Greensill concluded it had applied "unusual" pressure to access the government Covid loan scheme. "Repeated requested updates" were made on the progress of Greensill's application to the British Business Bank that eventually enabled it to provide eight loans totalling £400m to eight corporate entities that were all linked to metals magnate Sanjeev Gupta. Lending of more than £50m to a single company was not permitted.

Regulatory risk hits investors in Didi Chuxing.
Didi Chuxing, the ride-hailing app that IPO'd in New York in late June lost a quarter of its market value a week later. The fall came as a result of the Chinese authorities announcing that Didi must remove its app from the Chinese market due to violations of data protection requirements.
Analyst who recommended Wirecard until its insolvency reinstated by Commerzbank.
An analyst, Heike Pauls, who was fired by Commerzbank in February over links with collapsed payment processor Wirecard was ordered to be reinstated by a Frankfurt court. Ms Pauls branded whistleblower reports about Wirecard as "fake news" and strongly recommended it. Since her sacking Commerzbank has decided to close its equity research department to cut costs.
JPMorgan trader declared as unfairly dismissed over spoofing.
A London employment tribunal concluded a JPMorgan trader had been unfairly dismissed over potential market abuse by spoofing when entering and deleting two sell orders in quick succession. At the time JPMorgan took no action but subsequently decided to fire him. The judge concluded the actions were down to a "desire to appease" the regulators by showing it was "cleaning up its act".
FCA tears down its Chinese walls.
The UK's Financial Conduct Authority (FCA) announced it will be removing the non-inclusive term "Chinese walls" from its handbook in an effort to improve diversity and inclusion.
Greensill paid Cameron more than £40k per day.
Ex-prime minister David Cameron was paid more than £1m per annum by Greensill for twenty-five days of work – equivalent to more than £40k per day. Mr Cameron has been heavily criticised for excessively lobbying to enable Greensill to access government-backed loan schemes before the supply-chain finance provider collapsed.
SEC fines for misleading investors.
The US Securities & Exchange Commission (SEC) fined Momentus, a space transportation start-up, and the special purpose acquisition company that took it public, called Stable Road Acquisition, for misleading investors. The SEC charged that investors had been told Momentus had "successfully tested" its technology in space when in fact its only test had failed. Total penalties amounted to more than $8m.
UBS launches portfolio invested in women-led hedge funds.
The "Carmen" portfolio has been launched by UBS that will pick ten to fifteen hedge funds where a woman has sole or joint discretion over the assets. The diversity initiative will hopefully spot hidden talent in a traditionally male-dominated sector.
PwC UK using fitness trackers to help with well-being of staff.
Professional services firm PwC UK has one-thousand staff wearing fitness trackers that feed data into an analytics platform aiming to improve performance. The voluntary wearers' data feeds into the platform with data from timesheets, work calendars and the results of psychometric and cognitive tests.
BGC Partners suing to recover $35m from fraud.
Interdealer broker BGC Partners is suing three individuals to recover $35m from an alleged fraud. Michael Viney, a tax adviser employed by BGC Partners, his girlfriend Hallelujah King and a senior BGC Partner Xavier Alcan are all being sued. BGC alleges the men funnelled cash due to or from the UK's tax authority to themselves, spending on property in England, holidays, and jewellery. BGC listed eighteen properties in England in King's name, including a £1.2m property in St Albans.
EY pays $10m to settle misconduct charges.
Ernst and Young (E&Y) agreed to pay $10m to the SEC to settle charges of misconduct in relation to winning business from Sealed Air, the bubble wrap manufacturer. The chief accounting officer at Sealed Air worked with three EY partners on an RfP and gave the accountancy firm the ability to meet with the company more than one month ahead of others.
KPMG fined £13m over Silentnight misconduct.
An independent tribunal fined KPMG £13m and ordered a further £2.75m to be paid in costs over its role in the sale of bed manufacturer Silentnight to PE firm HIG Capital. KPMG helped HIG drive Silentnight into insolvency so that the PE firm could buy the company without the burden of its £100m defined benefit pension scheme. KPMG's client was Silentnight and it failed to act with objectivity and integrity.
"Mr White Hat" offered chief security adviser role at Poly Network.
Poly Network, a decentralised finance network, offered a chief security adviser position to "Mr White Hat", the hacker who has managed to gain control of $235m worth of crypto assets on the network. Mr White Hat has claimed to be an ethical hacker, looking for weaknesses that require improvement.
BHP sacked forty-eight staff for sexual harassment in two years.
Miner BHP revealed that it had fired forty-eight employees for sexual harassment at its remote Western Australian mines since 2019. The revelation was included in a submission to a parliamentary enquiry.
DWS facing allegations of "greenwashing".
German asset manager DWS is facing an inquiry from BaFin surrounding allegations of flawed ESG risk management from its recently fired global head of sustainability.
BCG cuts back on unnecessary air travel.
Boston Consulting Group will no longer woo prospective graduate hires with international trips to European destinations like Florence and Lisbon. The reduced carbon footprint will also see BCG requiring rail travel rather than flights from Paris to Nice.
Panama goes for female empowerment.
Panama took a major step towards gender equality by appointing six females within its sixteen cabinet members and setting a quota of thirty per cent female participation on the boards of state companies.
Nomura introduces ban for smoking at work, even if working from home.
Japan's Nomura banned its workforce from smoking whilst working, including when working from home. It hopes the initiative will have both health and productivity benefits – breaks taken by smokers are estimated to amount to six days of working time per annum.
El Salvador allows bitcoin as legal tender.
El Salvador became the first country in the world to allow a cryptocurrency (bitcoin) to become legal tender. Citizens will be allowed to shop, pay taxes, and buy land using bitcoin. The government is rolling out a digital bitcoin wallet with $30 worth of bitcoin for every user.

PwC illustrate the influence of socio-economic background.
Professional services firm PwC disclosed in its annual report that more than eighty per cent of the employees at PwC UK came from a higher socio-economic background. Only fourteen per cent came from a lower socio-economic background, based on parental occupations.
Ex-Barclays banker wins lawsuit over sexist language.
A female ex-Barclays banker won an employment lawsuit against the bank for her manager's sexist language. An employment tribunal upheld her claim of direct sex discrimination by her line manager, a male who referred to another female employee as a "bird". The judge concluded the line manager used sexist language "in a rather puerile attempt to be ironic".
Mystery group of companies looks to have fraudulently taken up to £40m in furlough support.
An investigation by the Financial Times found a seemingly inactive group of companies were paid between £20m and £40m in furlough support in May 2021. The businesses claimed to be an IT services company, a corporate charity, a research hospital, and a religious institute. All used the word "Domain" in their names and used their virtual mailbox addresses as their "corporate headquarters".
WPP pays $19m to SEC over bribery.
Advertising giant WPP agreed to pay $19m to the US Securities and Exchange Commission (SEC) to resolve charges that it breached the US Foreign Corrupt Practices Act between 2013 and 2018. The SEC uncovered schemes that included WPP subsidiaries paying $1m bribes in India and helping to illegally fund a political campaign in Peru. The SEC said the root cause was an overly aggressive growth strategy.
Big rise in "authorised" fraud in UK.
UK Finance announced that "authorised" fraud – where victims are fooled into transferring money or personal details to criminals – reached £355.5m in the first half of 2021. This was up seventy-one per cent on the same period in 2020 and exceeded unauthorised thefts for the first time.

Delivered straight to your inbox
Receive updates, exclusive offers, event invitations and free resources straight to your inbox by signing up for our monthly newsletter.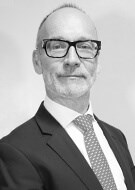 Martin Mitchell
Director of Training Services