Concerning Conduct: Quarterly Cases - Q1 2022
A summary of recent cases concerning culture and conduct.
Elizabeth Holmes found guilty of defrauding investors in blood-testing company Theranos.
Elizabeth Holmes, the founder of blood-testing company Theranos, was found guilty on four counts of defrauding investors in California. Ms Holmes appears to have misled investors about the work done by the company and the range of blood tests it offered. At one stage Theranos was valued by investors at $9bn – it was liquidated in September 2018.  
KPMG admits to misconduct over Carillion.
Professional services firm KPMG admitted to misconduct surrounding its audit of collapsed outsourcer Carillion. Staff at the firm amended and fabricated documents to present to the auditing regulator, the Financial Reporting Council. Six members of staff at the time have all denied wrongdoing and have since left the firm. 
Horta-Osorio quits as chair of Credit Suisse due to Covid breaches. 
Antonio Horta-Osorio quit as chair of Credit Suisse after an investigation by the board found he had breached quarantine rules in both the UK and Switzerland. He failed to observe the required isolation periods around overseas trips including a visit to the tennis finals at Wimbledon. 
AGM vote count blunder at Go-Ahead. 
UK public transport group Go-Ahead admitted to a mistake in counting votes at its AGM in December 2021. The mistake involved failing to count more than three-million proxy votes in a resolution to retain or remove the head of the firm's audit committee. The blunder meant the director retained his role when he should have failed to do so. The director has subsequently stepped down.
DWS CEO suspicions related to Porsche car.
It appears that Deutsche Bank in Germany took the unusual step of reporting a suspicion on a transaction involving one of its own bankers. Asoka Wohrmann, former head of Deutsche's private bank in Germany and now CEO of asset manager DWS, received €160,000 from Daniel Wruck, managing director of Ice Field Dry Ice Engineering in 2018. It emerged that the payment was returning funds paid over to Wruck of €160,000 in September 2017, apparently to enable him to buy a new Porsche Panamera on behalf of Mr Wohrmann.
Ex-BNP employee awarded £2m for discrimination claim.
A UK employment tribunal awarded £2m compensation to Stacey Macken after deciding she was paid significantly less than her male colleagues over four years at BNP's London office. Macken joined BNP Paribas in 2013 in prime brokerage and later discovered her pay was twenty-five per cent less than a male colleague in an equivalent role. Three years later the gap had widened to eighty-five per cent.
Monzo offers staff three months paid leave.
Monzo Bank told its two-thousand two-hundred staff that they can take sabbaticals every four years for three months. The time can be taken one month at a time, or all three months together.
Bank of England governor accused of hypocrisy.
Bank of England governor Andrew Bailey was accused of hypocrisy after suggesting workers should not seek big pay rises to avoid a damaging wage-inflation spiral. Mr Bailey was paid £575k including pension last year.
Credit Suisse offloads some of the risk of lending to oligarchs.
Credit Suisse securitised $80m from a portfolio of loans to its wealthiest customers. The loans had enabled ultra-rich oligarchs and entrepreneurs to purchase yachts and private jets.
SEC should be called the "Short-seller Enrichment Commission" according to Musk.
Elon Musk's Tesla has received a subpoena from the US SEC over its "governance processes around compliance". The subpoena follows Mr Musk's tweets that started with: "Am considering taking Tesla private at $420. Funding secured" and subsequently saw Mr Musk calling the SEC the "Short-seller Enrichment Commission". Musk settled with the SEC agreeing not to comment publicly on anything "material" to Tesla shareholders without proper approval from a company lawyer.  
Morningstar removes one-thousand two-hundred funds from its sustainable investing list.
An "extensive review" of the legal documents of funds saw Morningstar remove one-thousand two-hundred funds from its "sustainable universe". The number of funds the data provider considers sustainable has fallen from over six-thousand to around five-thousand as a result of the review.
Warnings on the potential for bias in AI.
Concerns were raised in the US, the EU and the UK about how the potential use of artificial intelligence (AI) to make lending decisions could worsen discrimination against minorities that are already struggling to borrow. Safeguards are thought to be necessary to prevent AI making discriminatory lending decisions and perpetuating biases. 
Ericsson admits to "corruption-related misconduct".
Swedish telecom equipment manufacturer Ericsson revealed that an internal investigation from 2019 had found serious breaches of compliance rules in Iraq. The breaches included paying to transport goods through areas controlled by the terrorist group Isis.
"Suisse secrets" leak likely to be embarrassing.
An anonymous whistleblower released documents detailing around thirty-thousand Credit Suisse clients to a consortium of media outlets. The document revealed that Credit Suisse maintained accounts for clients long after they had been arrested for crimes like human trafficking and accused of bribery and corruption. Amongst them was Ronald Li Fook, the former chair of the Hong Kong stock exchange who opened an account a decade after being imprisoned for taking bribes. There were also accounts for late Egyptian president Hosni Mubarak's two sons, both of whom had been jailed for embezzlement and corruption. Credit Suisse said that ninety per cent of the accounts involved in the leak were closed or in the process of being closed.
J&J criticised for "Texas two-step" manoeuvre.
Consumer giant Johnson & Johnson (J&J) was criticised for adopting the "Texas two-step" to insulate the wider business from cancer claims over its use of asbestos in talcum powder. To manage the risk of billions of dollars of claims J&J split itself into two entities, ringfencing the talc liabilities within a particular subsidiary and then put that subsidiary into Chapter 11 bankruptcy protection. 
Credit Suisse asks clients to erase data on oligarch loans.
In an attempt to avoid embarrassment and reputational issues, Credit Suisse took the surprising step of asking hedge funds and other investors in a securitisation of loans made to ultra-rich clients to destroy documents. It appears the investors received documents when offered the securitisation that detailed underlying loans backed by yachts, real estate and financial assets.
Complaint lodged against Japan's financial regulators over handling of block trades.
Japan's third largest brokerage SMBC Nikko lodged a complaint against regulators at the stressful way they investigated market manipulation. The Financial Services Agency were looking at block trades and a senior trader in his 50s died of a brain aneurysm shortly after multiple interrogations lasting up to ten hours.   
Citi opts for Malaga in war for talent over investment banking analysts.
Citigroup is setting up a hub for new investment bankers in Malaga in Spain. It will recruit thirty "junior banking analysts" who will work eight hours a day and have their weekends protected. The initiative, aiming to innovatively address the war for talent for analysts, will see the juniors who perform well after two years given the opportunity to apply for a full analyst role.
Testimony of star witness in 1MDB fraud case.
A New York court heard the testimony of the US Department of Justice's star witness in the trial of former Goldman Sachs banker Roger Ng in relation to the billions of dollars siphoned from the Malaysian state investment fund 1MDB. Tim Leissner is the former GS partner who has pleaded guilty to charges of laundering money and violating foreign bribery laws and is co-operating with the US government. He described how driven he was to close deals with 1MDB, earning $12m in 2012 and then going onto collect around $60m for his share of the $2.7bn siphoned from 1MDB.
Biggest ever fine from Lloyds of London for cultural failures.
Insurance underwriter Atrium was hit with the largest fine in the history of the Lloyds of London's enforcement body for a non-financial infraction. A fine of £1m plus a further £500k in costs related to behaviour that included "systematic bullying" and sexual harassment of female staff. Lloyds said the charges involved "serious failures" by senior managers at Atrium over a number of years, and a culture that it said "tolerated instances of unacceptable conduct involving discrimination, harassment and bullying".  
Was the FCA "asleep at the wheel" over pensions transfers?
Andrew Bailey, now governor of the Bank of England, is understood to have fallen asleep "numerous times" during a meeting about pension transfers of former members of the British Steel Pension Scheme when he was in his previous role as chief executive at the FCA. Some eight-thousand members transferred £2.8bn worth of pensions to riskier defined contribution schemes after advice from independent financial advisers. The FCA found that for forty-seven per cent of cases the advice was unsuitable and thirty-two per cent it was unclear. 
FCA urged to investigate car insurance "ethnicity penalty".
Consumer advice organisation Citizens Advice published a report highlighting a "worrying trend" linking ethnicity to the cost of motor insurance. It found that people of colour were spending £250 more on average to insure their vehicles and called on the FCA to investigate.
P&O sackings were illegal, admits CEO.
The CEO of P&O Ferries admitted to breaking the law by firing its entire UK crew without notice or consultation over Zoom. Peter Hebblethwaite, CEO of P&O Ferries, said in evidence to MPs that he ignored the requirement to consult with trade unions but argued the decision was the only way to "save the company".
HSBC edits out references to "war" in Ukraine from its research reports.
It appears that HSBC chose to change the word "war" to "conflict" when referring to Ukraine in its research reports. The change is presumably to avoid any pressure on staff in HSBC's Moscow office since it has been made a potential custodial offence in Russia to use the term "war" in relation to the activities in Ukraine.

Delivered straight to your inbox
Receive updates, exclusive offers, event invitations and free resources straight to your inbox by signing up for our monthly newsletter.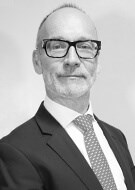 Martin Mitchell
Director of Training Services