Compliance Updater - June 2022
Regulatory and compliance news in brief
A summary of key compliance stories around the globe in June.
FCA puts Credit Suisse on watchlist.
The UK's Financial Conduct Authority (FCA) has told Credit Suisse it has not yet done enough to improve its culture, governance and risk controls after a string of scandals including the implosions of Greensill Capital and Archegos. Inclusion on the FCA's watchlist means that Credit Suisse will be closely monitored.
Claim filed against Woodford fund.
London law firm Harcus Parker filed an initial claim for fifteen-hundred investors who lost money on the collapse of the Woodford Equity Income Fund that was frozen in June 2019. Lawyers think the claim against authorised corporate director Link Fund Solutions could reach £100m or more as investors join the claim. The claim alleges that Link breached FCA rules by allowing the fund to invest heavily in illiquid assets.
Elliott Management claims $456m from LME over cancelled nickel trades.
Hedge fund manager Elliott Management has submitted a claim for $456m over the London Metal Exchange's cancellation of trades after a two-hundred and fifty per cent surge in price due to a short squeeze in March. Elliott claims the exchange overstepped its powers or exercised them "unreasonably and irrationally". A day later Wall Street market maker Jane Street submitted a further claim for $15.3m.
BoE orders banks to improve plans to "fail safely".
The Bank of England (BoE) found "shortcomings" in the plans of HSBC, Lloyds Banking Group and Standard Chartered to be able to fail without harming customers and taxpayers. NatWest, Nationwide and Virgin UK were asked to make "enhancements" to their plans. All of the banks are working towards addressing the issues identified.
JPMorgan wins "fraud" case against Nigeria.
JPMorgan Chase won a $1.7bn lawsuit brought by the Nigerian state over its part in facilitating payments to a former Nigerian minister with a money laundering conviction. Nigeria claimed that JPMorgan was "grossly negligent" in paying almost $900m to a company controlled by a former oil minister who had been convicted in France for money laundering. The claim was dismissed by the judge at London's High Court.
Bankers lose jobs over message app usage.
A senior investment banker at Credit Suisse lost his job because he used personal messaging applications to communicate with clients. The head of equity capital markets syndicate in New York is thought to have texted clients outside of the controlled environment and will be "leaving to pursue other opportunities". HSBC also fired a London-based forex trader for inappropriate use of messaging apps, which appeared to include the revelation that a broker had bought the trader tickets for a sporting event. In response to the general crackdown on the use of personal apps, Deutsche Bank has been installing software called Movius on its employees' phones. The software will allow compliance to monitor calls, text messages and WhatsApp conversations.
Credit Suisse found guilty over Bulgarian drug money.
Switzerland's highest criminal court found Credit Suisse guilty of a corporate crime in failing to take action over money deposited by Bulgarian clients despite numerous red flags. Between 2004 and 2008 huge sums of cash were deposited, often in the form of regular suitcases containing more than €500,000. Judges imposed a SFr 2m fine on the bank and ordered it to pay €18.6m in compensation to the Swiss government.
UK FCA launches investigation into CEO at Wise.
The chief executive of payment app Wise, Kristo Kaarmann, is being investigated by the UK's FCA over a tax default that questions his fitness and properness. Mr Kaarmann is a senior manager at Wise's asset management subsidiary and is included in a list of individuals that received penalties for tax defaults from HM Revenue and Customs (HMRC). His entry related to an outstanding tax bill of £720,4965 for 2017/18 which led to a fine of £365,651.
EY agrees $100m settlement with US SEC.
Auditor EY agreed a $100m settlement with the US Securities and Exchange Commission (SEC) over cheating on tests to maintain Certified Public Accountant status. The cheating included ninety-one EY staff sharing answers to the ethics portion of the exams. A director of the SEC's enforcement division said it was "simply outrageous that the very professionals responsible for catching cheating by clients cheated on ethics exams, of all things".
UK FCA fines Ghana International Bank £5.8m for financial crime deficiencies.
The FCA fined Ghana International Bank £5,829,900 for poor anti-money laundering and counter terrorist financing controls in its correspondent banking activities. Although no evidence of money laundering was uncovered, Ghana Bank was deemed to have significant weaknesses in its financial crime controls and is not taking on new customers whilst improvements are made. Ghana Bank agreed to settle at the earliest possible opportunity which meant it qualified for a thirty per cent discount on a fine that otherwise would have been more than £8.3m.

Delivered straight to your inbox
Receive updates, exclusive offers, event invitations and free resources straight to your inbox by signing up for our monthly newsletter.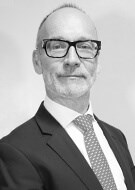 Martin Mitchell
Director of Training Services