Compliance Updater - December 2022
Regulatory and compliance news in brief
A summary of key compliance stories from around the globe in December.
FCA issues first fine over British Steel pension mis-selling.
The Financial Conduct Authority (FCA) fined Pembrokeshire Mortgage Centre (PMC) almost £2.4m for "unsuitable advice" and "serious failings". PMC closed down in 2017 but earned more than £2m in fees advising four-hundred and twenty pensioners in the British Steel pension scheme – ninety-three per cent of which were advised to transfer out of the defined benefit scheme.
FCA warns firms over CFD mis-selling.
The UK's FCA raised concerns that a "significant minority" of contracts for difference (CFD) brokers use pressure selling techniques, charge inappropriate fees and refuse to process withdrawals. The FCA estimates that eighty per cent of customers lose money on CFDs.
NCA anti-kleptocracy cell makes three arrests.
The UK's National Crime Agency (NCA) arrested three people in central London on suspicion of money laundering – a wealthy Russian billionaire and what appeared to be two accomplices. The arrests arose from the investigations of the recently established anti-kleptocracy cell set up to tackle corrupt elites including those linked with the Kremlin.  
City regulators told to up their game by minister.
The City minister Andrew Griffith sent identical letters to the UK's FCA and PRA telling them he expected them to pursue "world-leading operational effectiveness" as the UK government moved towards reforming the post-Brexit financial services sector.  
FCA bans three traders for market manipulation.
Three bond traders at Mizuho Financial Group in London were fined a total of nearly £600k and banned for market manipulation by the FCA. Allegedly, the three placed large orders they did not intend to execute and at the same time entered smaller orders on the other side of the order book that they did intend to execute. The orders related to Italian government bond futures. The traders are appealing to the upper tribunal against the decision.
Hunt reveals reforms for UK financial services.
UK chancellor Jeremy Hunt announced plans to boost the UK financial services sector by loosening safeguards to take advantage of "freedoms" provided by Brexit. The moves include removing the cap on bankers' bonuses, relaxing ringfencing rules and reviewing the senior managers regime. The financial regulator will also be given a new "secondary objective" of delivering growth and competitiveness.
The trial over Wirecard started in Munich with the prosecution alleging that senior managers at Wirecard forged documents and lied to auditors and investors for more than five years. This enabled them to hide losses, inflate the share price and fraudulently raise more than €3bn in debt. In the dock are former chief executive Marcus Braun, ex-accounting head Stephan von Erffa and the former Dubai-based manager Oliver Bellenhaus. Bellenhaus is also chief witness and is co-operating with the prosecutors.
Santander UK fined £107.8m for AML failings.
The FCA fined Santander UK £107.8m for flaws in its anti-money laundering systems between 2012 and 2017. The bank failed to properly verify information provided by customers about their businesses.
Metro Bank former execs censured after appeal against FCA ruling.
The former CEO and CFO at Metro Bank failed in their appeal against the fines from the FCA for publishing an incorrect figure for risk-weighted assets in 2018. The fines (£223,100 and £134,600) were upheld and the two were censured. Metro Bank was fined £10m for misleading investors.
US Dept of Justice charges FTX founder.
Sam Bankman-Fried, the founder and CEO of collapsed cryptocurrency exchange FTX, was charged with conspiracy to commit wire fraud against customers and lenders, money laundering and violating campaign finance laws. Bankman-Fried consented to extradition to the US from the Bahamas and faces the possibility of decades in prison.
Danske Bank pleads guilty to US fraud.
Danske Bank, the Danish bank whose Estonian branch accepted some €200bn of suspicious cash from 2007 to 2015, pleaded guilty to defrauding US banks. An estimated $160bn was processed through US institutions on behalf of suspicious clients. Danske agreed to pay more than $2bn in penalties - $1.2bn in criminal forfeiture to the US, $672m to Danish authorities and a civil penalty of approximately $178m to the US SEC.
Wells Fargo to pay $3.7bn for illegal activity.
US bank Wells Fargo was fined $1.7bn by the Consumer Financial Protection Bureau and ordered to pay $2bn in redress to customers. The bank illegally assessed fees and interest charges on automotive and mortgage loans, as well as wrongly repossessing cars and misapplying customer payments.
TSB fined £48.7m for risk management and governance failings.
TSB was fined £48.7m by the UK regulators (the FCA and the PRA) over its botched attempt to migrate customers to an IT system run by its parent company Banco Sabadell. The FCA noted the "widespread and serious" nature of the failings and the "real impact on the day to day lives" of many customers including those that were vulnerable. Customers were locked out of their online accounts for months in 2018.

Delivered straight to your inbox
Receive updates, exclusive offers, event invitations and free resources straight to your inbox by signing up for our monthly newsletter.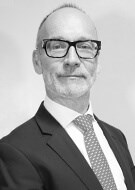 Martin Mitchell
Director of Training Services