Compliance Updater - August 2022
Regulatory and compliance news in brief
A summary of key compliance stories around the globe in August.
SEC charges eleven people over $300m crypto Ponzi scheme.
The US Securities Exchange Commission (SEC) charged eleven people involved in an alleged cryptocurrency pyramid scheme known as Forsage. Forsage raised around $300m and investors earned compensation from people they recruit and other later investors.
Renowned City figure fined £80,000 for disclosing inside information.
Former chief executive of Vodafone, Sir Christopher Gent, was fined £80,000 by the UK's Financial Conduct Authority (FCA) for unlawfully disclosing inside information. The information related to the retirement of the CEO at medical equipment maker ConvaTec where Sir Christopher was chair. Sir Christopher revealed plans to two of ConvaTec's main shareholders at least two days before the public announcement.
Credit Suisse in legal fight with SoftBank.
Credit Suisse applied to the UK courts to start legal proceedings against Japanese tech investment group SoftBank to recoup $440m of its clients' money lent via Greensill Capital to Katerra. Katerra is a US engineering business owned by SoftBank that filed for bankruptcy last year. The Swiss bank alleges that SoftBank was aware of the planned restructuring in advance of the loan.
Entain faces £17m fine for "serious failures" including AML.
Entain, the gambling company that owns Ladbrokes and Coral, was fined £17m - £14m for its website operations and £3m for its betting shops – for serious failings in its anti-money laundering processes and safer gambling efforts. The UK's Gambling Commission fine covered the period from December 2019 to October 2020 and mentioned how Entain allowed one customer to deposit up to £742,000 over a fourteen-month period without carrying out appropriate source of funds checks.
BaFin says German auditors are too close to clients.
As BaFin took over from the Wirecard-discredited German Financial Reporting Enforcement Panel, it immediately took a swipe at the cosiness between auditor and client. The newly appointed head of accounting regulation at BaFin talked about "audit teams who are left unchanged for years", audit firms who "do not rotate" and the need for professional scepticism to be "emphasised more".
Singapore fines Noble $9.1m over "misleading information".
Commodities trader Noble was fined $9.1m by Singapore's accounting authority for "misleading information" in its financial statements after a probe that took almost four years to complete.
Wise UAE subsidiary fined $360k over money laundering control failures.
A subsidiary of payments app Wise called Wise Nuqud was fined $360k by the Financial Services Regulatory Authority of the Abu Dhabi Global Market in the UAE. The fine was for failures in its anti-money laundering controls and included only carrying out enhanced due diligence for high-risk customers after establishing a business relationship and overlooking a failure to consider customer nationality in its risk assessments. It appeared that no actual instances of money laundering resulted from the failures and the fine was reduced by twenty per cent because Wise did not dispute the penalty and agreed to settle at the earliest opportunity.
Morgan Stanley places lawyer on US equity syndications desk over block trading concerns.
Morgan Stanley has placed an internal lawyer on the US equity syndications desk to make sure that block trades are handled appropriately. Block trades – bulk sales, often for clients, that are big enough to move prices – are being looked into by the US Department of Justice and SEC concerned about some investors being given advance warning of the trades.

Delivered straight to your inbox
Receive updates, exclusive offers, event invitations and free resources straight to your inbox by signing up for our monthly newsletter.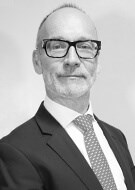 Martin Mitchell
Director of Training Services