Compliance Updater - April 2022
Regulatory and compliance news in brief
A summary of key compliance stories around the globe in April.
Steelworkers pension redress plan proposed by FCA.
The UK Financial Conduct Authority (FCA) outlined how it will force three-hundred and forty firms to review pension transfer recommendations given to about four-thousand members of the British Steel Pension Scheme (BSPS). In 2017 and 2018, seven-thousand seven-hundred members transferred from the BSPS defined benefit guaranteed scheme to riskier arrangements and estimates found that up to fifty-four per cent of transfer recommendations were unsuitable.
US SEC proposes tightening of SPAC requirements.
The US Securities and Exchange Commission (SEC) is proposing to increase disclosures for sponsors of special purpose acquisition companies (SPACs) to reveal potential conflicts of interest and performance projections. The idea is to bring SPACs more into line with the regulations faced by traditional IPOs. Performance projections appear to have been wildly over optimistic in many SPAC deals, such as the merger of a SPAC vehicle with Richard Branson's Virgin Galactica in 2019 where projected revenue for 2021 was $210m and the actual revenue achieved was ninety-eight per cent lower at $3.3m.
Dubai launches Virtual Asset Regulatory Authority.
Dubai has staked a claim to become a centre for crypto assets by launching a Virtual Asset Regulatory Authority to licence crypto firms operating in its Dubai World Trade Centre free zone. The world's largest crypto exchange by volume, Binance, consulted on the rules and has been issued with a licence.
Tokio Marine says Greensill insurance cover was gained by fraud.
Japanese insurance underwriter Tokio Marine has accused collapsed supply-chain financier Greensill Capital of fraudulently obtaining insurance to guarantee that its borrowers would repay. The allegation, if proven, could come as a blow to Greensill investors who hope that the insurance will enable the recovery of losses.
FCA outlines strategy for the next three years.
The UK FCA announced its strategy for the next three years including hiring another eighty employees to work on shutting down problem firms that do not meet basic regulatory standards. The regulator plans to be "more innovative, more assertive and more adaptive".
Banks worry about sanctions inconsistency between US, EU, and UK.
EU banks are looking for more guidance about how to apply sanctions, in particular the lack of harmony between EU, US, and UK rules. The European Commission is looking at the issues. An example is in relation to control of an entity by people or companies on the sanctions list – defined in the US as fifty per cent or more and by the EU and UK as more than fifty per cent. Furthermore, if two sanctioned people or entities together own more than half of a company, the EU and US consider that counts as control, the UK does not.
Ex-Goldman Sachs banker Ng found guilty over 1MDB.
Roger Ng, the former Goldman Sachs banker, was found guilty by a US jury of conspiring to violate US anti-bribery laws and conspiring to launder money in relation to the Malaysian state investment fund 1MDB. Ng is accused of pocketing about $35m from 1MDB's funds. Ng's former boss, Tim Leissner, is co-operating with the US authorities and has already pleaded guilty.
Morgan Stanley block trade probe widens to Hong Kong.
Morgan Stanley is facing a US federal investigation into its block trading business, including suspicions that some investors may have obtained advance warnings and traded ahead of the bulk sale. It appears that rival Goldman Sachs reported Morgan Stanley to Hong Kong's Securities and Futures Commission three years ago over price drops in Hong Kong listed shares in advance of block deals.
UAE freezes assets of Irish drug trafficking gang.
The UAE added to the international pressure on the Kinahan drug trafficking gang – an Irish organised crime group that is already under investigation in the US, UK, Ireland, and Spain. The freeze followed US sanctions on members of the group including its Irish leaders Christopher Kinahan and his two sons Daniel and Christopher Jr. All three are Dubai residents.
FCA review criticises challenger banks' financial crime defences.
The UK FCA published a review looking at six challenger banks and found a number of issues surrounding defences against financial crime. Most banks looked at did not take details of customers' income and occupation, limiting their ability to assess risk. The monitoring of alerts was found to be "ineffective", and some had failed to adapt their oversight as they expanded rapidly.
UK looks at reforming Solvency II.
The UK Treasury has launched a consultation on reforming the Solvency II rules for insurance companies to move away from the EU requirements and make it easier to invest in infrastructure projects. The hope is that the changes will unlock tens of billions of pounds for long-term investments, like offshore wind farms.
SEC gathers views on stake reporting change.
The US SEC is considering comments on its proposal to half the ten-day window investors are given to reveal stakes of more than five per cent. The proposed rules also broaden the definition of a group of investors required to make disclosures to include instances where a group has not explicitly agreed to work together.
Bill Hwang arrested and charged in the US.
Bill Hwang, the founder of collapsed family office Archegos Capital Management, was arrested in the US and charged with racketeering, securities fraud, wire fraud and market manipulation. Former CFO Patrick Halligan has also been charged. Archegos used borrowed money to take multi-million-dollar positions in US-listed companies until prices dropped and billions of losses followed.
PRA head sounds out simplified prudential regime.
Sam Woods, head of the UK Prudential Regulation Authority (PRA), made a speech suggesting that bank regulation had become too complex. He proposes a simpler capital requirement that will consist of just two components – a low minimum requirement and a simple, releasable buffer. The latter will replace the existing capital conservation, countercyclical, systemic, and firm specific buffers that currently exist.
ECB official likens crypto to a Ponzi scheme.
An executive at the European Central Bank likened cryptocurrencies to a Ponzi scheme, warning of a "lawless frenzy of risk taking". Fabio Panetta also added "at present they derive their value mainly from greed, they rely on the greed of others and the hope that the scheme continues unhindered" – the definition of a classic Ponzi scheme.
Deutsche Bank in Frankfurt raided over money laundering.
Germany's federal police, criminal prosecutors, and financial regulator BaFin raided Deutsche Bank's Frankfurt HQ. The raid was based on suspicion that unnamed employees may have violated money laundering laws. It is thought that the issues relate to Deutsche Bank acting as correspondent bank.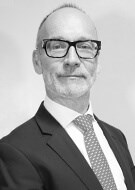 Martin Mitchell
Director of Training Services