Client Onboarding & Building a Risk Based CDD Process
Overview
As the greatest chance of discovering Money Laundering or Terrorist Financing lies in the account opening stage, firms need to place crucial emphasis on Customer Due Diligence (CDD), particularly for new clients.
Therefore, CCL Academy have developed this workshop to meet the needs of today's current Anti-Money Laundering (AML) personnel and Compliance professionals with responsibility for conducting Customer Due Diligence. Focusing on the Risk-Based Approach (RBA), the workshop provides participants with a thorough guide to conducting effective due diligence and meeting the regulatory requirements concerning AML and CTF.

The workshop begins with an update on AML & CTF issues, GCC-specific laws and penalties as well as international best practice. After an explanation of the factors necessary to complete a Business Risk Analysis (BRA), participants will be given the opportunity to complete an analysis for their own firms.
Similarly, the focus on what constitutes an effective customer risk assessment will be followed by a presentation of three clients with very different risk profiles, which participants will be invited to assess. This will lead into a discussion on documentation requirements, using the previous three profiles in an engaging role play activity which will end with participants building effective client files.
Finally, the workshop will consider the role customer-facing staff play in detecting suspicious activity during the onboarding process and then on an ongoing basis, with case studies to test participants' understanding of AML procedures.The workshop style programme uses a variety of teaching methods including relevant case studies, illustrative examples and participant interaction to help participants quickly grasp and internalise new knowledge. It is highly interactive and participants will be invited to discuss illustrative examples and real-life case studies in order to gain a practical understanding of all these issues.
Who is this for?
The course will be of considerable value to Money Laundering Reporting Officers (MLROs), Compliance Officers and all staff responsible for Customer Due Diligence (CDD) with at least 2 years relevant experience and who wish to cement their understanding of the topic with a sound practical grounding.
Learning Outcomes
After attending this course, participants will:
Understand what is meant by the Risk-Based Approach and why it is effective
Be able to conduct a Business Risk Assessment and know the specific risks faced by your firm
Undertake practical Customer Risk Assessments
Be able to conduct effective Customer Due Diligence
Know when to conduct enhanced or simplified due diligence
Be able to build an effective customer file
Know how to identify and report suspicious activity
Course Details
AML & CTF Update
Offences & Penalties - comparing penalties around the GCC
The Risk-Based Approach
Business Risk Analysis (BRA) - constructing a BRA for your firm
Customer Risk Assessment - assigning risk ratings to three potential clients
Customer Due Diligence - interviewing clients & building new client files
Recognising & Reporting Suspicious Activity - identifying suspicious activity
Delivery
All of CCL Academy's public courses are delivered virtually using Zoom.
Firms with more than 5 staff to train have the flexibility to deliver training in-person by one of our trainers at your premises, or virtually via Zoom, Teams or Webex.
Find out more about your Virtual or In-Person training experience below.
Virtual Delivery
Our virtual training courses are designed to be every bit as engaging as our in-person courses. To achieve this, our trainers use market-leading technology and a range of training techniques to ensure high levels of interaction with participants. Courses include the use of:
Virtual 'break-out' rooms: participants are divided into virtual rooms to facilitate small group discussion.
Polling: multiple-choice questions, answered anonymously, allow the trainer to assess knowledge and understanding across the group.
Case studies: true to life case studies and scenarios are used to highlight the practical application of theoretical knowledge.
Messaging: participants can submit questions and comments, either to the whole group or privately to the trainer.
Additional Benefits:
Recording: public course participants have the option to access a recording of the course for one month after the course. In-House clients also have the option to record their training for an additional fee.

On-going Q&A: public course participants can access an ongoing Q&A facility allowing them to ask questions relating to the course.
In-Person Delivery
Our in-person training is delivered face to face at your offices, and includes:
'In-the-moment' questions & discussions: questions through conversations allow the trainer to assess knowledge and understanding across the group.
Case studies: true to life case studies and scenarios are used to explore practical application of theoretical knowledge.
Q&A: participants can ask questions during training, either to the whole group or privately to the trainer.
"Very thorough, useful and engaging."
Senior Manager, Private equity services provider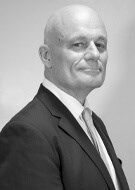 Bruce Viney
Director of Financial Crime Compliance Training