Anti-Bribery & Corruption (ABC) Workshop
Overview
Implementing robust measures against bribery and corruption continues to be a priority for governments and law enforcements internationally.
In the UK, the Bribery Act 2010 is wide-ranging in scope, and places significant obligations on firms. In particular, Senior Management need to ensure that they put in place comprehensive and effective measures to prevent bribery and corruption.
This course provides a comprehensive overview of the principal issues relating to the prevention of bribery and corruption. It considers the Bribery Act 2010 and its offences plus the guidance issued by the Department of Justice, with emphasis on the six principles laid out in the guidance to assist firms in establishing their own proportionate, effective regimes.
It also considers the role of enforcement agencies and regulators, with particular reference to the expectations of the Financial Conduct Authority (FCA).
Who is this for?
This course is designed for those with responsibility for ensuring the firm complies with its legal and regulatory obligations in relation to ABC.
This could include Senior Managers, MLROs, Deputy and Assistant MLROs, Compliance Officers and Internal Auditors. The course is also suitable for junior Compliance and Financial Crime Prevention staff, typically those with 1-3 years of experience, who wish to further develop their knowledge and professional skills.
Learning Outcomes
After attending this course, participants will be able to:
Describe the global approach to prevention and detection of bribery and corruption
Explain how the UK's Bribery Act 2010 fits into the global ABC picture
Apply the UK's Department of Justice Guidance in a proportionate but effective manner
Ensure that Senior Management have established an on-going compliance regime that they are able to monitor effectively
Understand and explain the regulator's role in compliance with the Bribery Act
Course Details
The origins of the Bribery Act
The scope of the Bribery Act
The bribery offences
The Department of Justice's Guidance and its Principles
Ongoing compliance with obligations from the Act
The role of the regulator
Delivery
Have the flexibility to deliver your In-House training in-person by one of our trainers at your premises, or virtually via Zoom, Teams or Webex.
Find out more about your Virtual or In-Person training experience below.
Virtual Delivery
Our virtual training courses are designed to be every bit as engaging as our in-person courses. To achieve this, our trainers use market-leading technology and a range of training techniques to ensure high levels of interaction with participants. Courses include the use of:
Virtual 'break-out' rooms: participants are divided into virtual rooms to facilitate small group discussion.
Polling: multiple-choice questions, answered anonymously, allow the trainer to assess knowledge and understanding across the group.
Case studies: true to life case studies and scenarios are used to highlight the practical application of theoretical knowledge.
Messaging: participants can submit questions and comments, either to the whole group or privately to the trainer.
Additional Benefits:
Recording: public course participants have the option to access a recording of the course for one month after the course. In-House clients also have the option to record their training for an additional fee.

On-going Q&A: public course participants can access an ongoing Q&A facility allowing them to ask questions relating to the course.
In-Person Delivery
Our in-person training is delivered face to face at your offices, and includes:
'In-the-moment' questions & discussions: questions through conversations allow the trainer to assess knowledge and understanding across the group.
Case studies: true to life case studies and scenarios are used to explore practical application of theoretical knowledge.
Q&A: participants can ask questions during training, either to the whole group or privately to the trainer.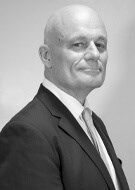 Bruce Viney
Director of Financial Crime Compliance Training